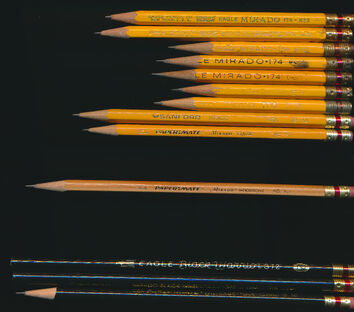 Mirado, also known as Mikado, ia a pencil group based on the fact that all the pencils are decended from the Eagle Mikado of pre-WWII times.
Mikado, which had been long seen on the pencils that were famous in America, were given that name since the word "Mikado" was infact a Japanese word for Emperor. When the Japenese bombed Pearl Harbour in 1941, Eagle chose to rename the famed pencil to the Americanized version of the word, Mirado.
Mikado and Mirado Pencils were not all Woodcased, but they were made in Indelible varieties and in Type-Tip varieties, known also as Flared Eraser varieties.
Mirado pencils are still seen today in the Mirado Classic, Mirado Black Warrior, and Mirado Woodtone, all made by Papermate.
Community content is available under
CC-BY-SA
unless otherwise noted.